Category:Certified
Synacor Announces the Public Beta of Zimbra Collaboration 8.8 Release
Zimbra Collaboration 8.8 Beta is out, try it now!

We are proud to invite you to Zimbra Collaboration 8.8 Beta Testing.
Zimbra Collaboration 8.8 is almost here, but first, we want to hear from YOU - our Customers, Partners and Open Source community.
Download today, before anyone else. Use this special, dedicated Forum to ask or answer questions about the Zimbra Collaboration 8.8 Beta.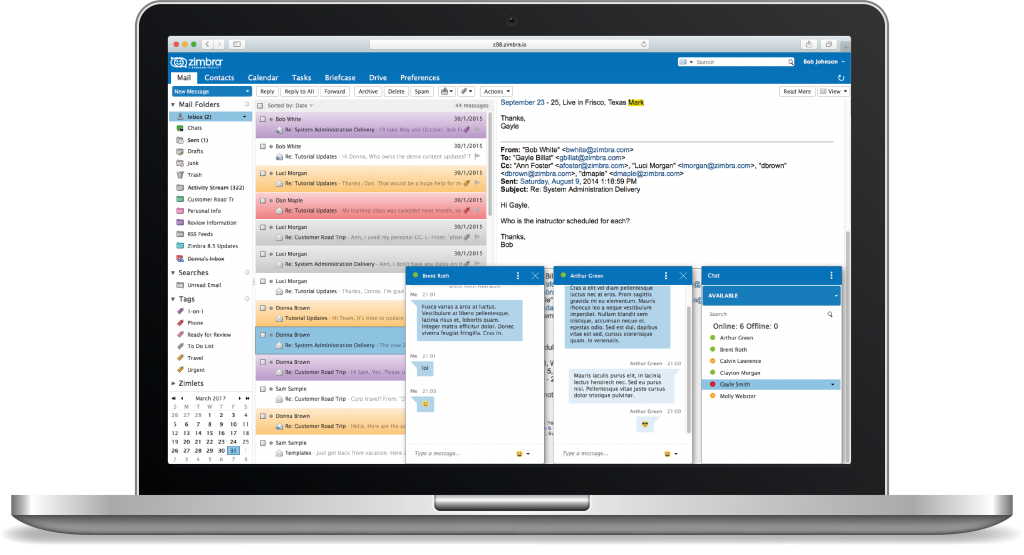 We are looking for Product Feedback on:
UI
Performance
Installation
Upgrade
New features
A Few Rules ...
All bugs will be reported through bugzilla with the 8.8 keyword 8_8_0_Beta_1
No Zimbra Support will be provided for the Zimbra Collaboration 8.8 Beta testing.
Network Edition testers must activate using a valid license which can be your production license.  If you have any issues with activating your server, please open a Support Ticket for assistance. (Note: Support will only help activate the license, 8.8 beta testing is not supported by the Support team)
What's new in Zimbra Collaboration 8.8 Beta?
Zimbra 8.8 marks the beginning of a whole new era with the introduction of peer-to-peer Zimbra Chat and Zimbra Drive into all versions of Zimbra and a complete overhaul of the major business-ready components of Zimbra Network Edition.
New Realtime Backup with 6 restore options: No data loss during backup, and new de-duplication technology results in up to 50% saving on storage space for backups.
Enhanced Mobile synchronization: Now users can sync Zimbra shared items on mobile devices.
New HSM and volume management options: Reduce your current Zimbra storage by up to 50% for an enormous cost savings.
Improved, easy-to-use Delegated Admin: Create a delegated admin in minutes, and enjoy increased reporting functionality and more CLI commands.
Zimbra Drive: Improves file sync and share with the addition of an ownCloud/nextCloud server.
Zimbra Chat: Peer-to-peer chat, buddy management and presence built-into Zimbra.
Reconfigured IMAP service: Improves email reliability and SLAs by deploying IMAP as a separate service.
Expanded SIEVE RFC compliance: Provides email admins with more powerful email filtering.
New Ephemeral Data Store: Increases read-write performance and server reliability by storing data store as ephemeral data in SSDB.
Please DO NOT UPGRADE your Production Environments! This Beta release is for Testing Purposes only. Zimbra will NOT provide Technical Support for those who upgrade a live Zimbra Infrastructure.
Go to our Zimbra Product Releases page for details about each release, including:
Release Notes
Patch Information
Documents in PDF format
Documents in ePub format
Complete Bugzilla reports
Zimbra is committed to providing a secure collaboration experience for our customers, partners, and users of our software.
Go to our Zimbra Collaboration Security Center to stay updated on all Security-related news.
Highlight new Features in Zimbra Collaboration 8.7
Two-factor Auth
The security of each individual user is a prerequisite in most enterprises. Zimbra Collaboration 8.7 includes a native 2FA feature that doesn't require a plugin at the server or user level, and works with the most well know OTP mobile applications. With 2FA, two components are required to log into an email account—something the user knows: a password, user ID, etc., and something the user possesses: a smartphone or USB-key.
SSL SNI for HTTPS
Customers and Business Service Providers (BSP) hosting multiple Zimbra domains now have official support for Multiple SSL domains on a single server (SNI) for HTTPS connections. With 8.7 it is now possible to publish multiple SSL Certificates using one single IPv4.
Postscreen for Zimbra boosts Email Security
Zimbra Collaboration 8.7 comes with postscreen at the MTA-level. The postscreen daemon provides additional protection against mail server overload. By keeping spambots away, postscreen leaves more SMTP server processes available for legitimate clients and delays the onset of server overload conditions.
Highlight new Features in Zimbra Collaboration 8.5/8.6
High Fidelity Document Preview
High Fidelity Document Preview is a Network Edition feature that permits preview it regular document files using the Libreoffice engine.
All the supported type documents are converted into a .pdf file, and then any browser with the PDF viewer enabled, or Adobe Reader installed, can preview the files.
DNS caching service (dnscache)
Starting with Zimbra Collaboration 8.5 and above, there is now a DNS caching service available for installation. It is specifically targeted for MTA nodes, and could be perfect for Single-Server Installations.
Three of our supported features are raly heavily on DNS lookups: DKIM verification, SpamAssassin Scoring, Postfix RBLs for spam blocking.
Offline Mode
Zimbra Offline Mode allows you to use the Zimbra Web Client (ZWC) and access your data without network connectivity. For example, if server connectivity is lost, ZWC automatically transitions to "offline mode".
When server connectivity is restored, ZWC automatically reverts back to "online mode".
Touch Client
The Touch Client is a Network Edition feature that enables a new web client interface for a mobile device. It uses the Sencha Touch Mobile HTML5 Framework optimized for the canvas of a smartphone or tablet device.
When a client first connects to a mail server via a web browser, the server attempts to detect the client type.
Exchange Web Services
Exchange Web Services was released in ZCS 8.5 or above and is a Network Edition feature that need to be purchased separetly. With this feature you can connect devices or applications that support the EWS technology.
For example, you can find in the above Wikis how to configure it in Microsoft™ Outlook 2011, or in Microsoft™ Outlook 2016.
PCI Compilance and Cipher strength
Starting with ZCS 8.5, it is possible to configure the TLS related strength factors for postfix to not only enforce encryption but to enforce a certain strength of encryption.
With ZCS 8.5 and later, it is now possible to preserve PCI compliance configuration across upgrades.
Separation of WebApp from Mailtstore
The current Zimbra architecture combines the mailstore functionality with all the web functionality on the same server.
Aim is to split the combined functionality so that mailstore server can be run independently from web that includes Zimbra Web Client, Zimbra Admin Client and Zimlets.
Exchange Activesync
Exchange ActiveSync was released in ZCS 8.5 or above and is a Network Edition feature. With this feature you can connect devices or applications that support the EAS technology.
For example, you can find in the above Wikis how to configure different Mail Clients like Outlook 2013, or Windows Mail App using Exchange Active Sync over Zimbra Collaboration.

More new features
Zimbra Collaboration 8.5 and 8.6 include a lot of new features, for example:
Real time attachment scanning for outgoing mail sent via the web client
Key migrations from localconfig to LDAP
Exchange compatible journaling
LMDB as the supported backend for on-disk database maps
Ability to blacklist or whitelist specific IP addresses
Ability to reject or accept deny emails for specific users
Split Domain support
Domain level disclaimer support